George Mueller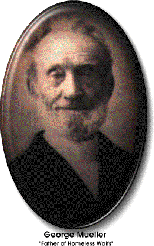 In my reading of the Book " Answers to Prayer " from George Mueller's Narratives, I found it to be a precious tool for our walk with God.

George Mueller quoted " I remember, in all my Christian course, a period now ( in March, 1895 ) of sixty nine years and four months, that I ever sincerily and patiently sought to know the will of God by the teaching of the Holy Ghost, through the instrumentality of the Word of God, But I have been always directed rightly. But if honesty of hearts and uprightness before God were lacking, or if I did not patiently wait upon God for instruction, or if I preferred the councel of my fellow men to the declarations of the Word of the Living God, I made great mistakes."

George Mueller was born of Prussia, born in Kroppenstaedt, on September 27, 1805. Mueller was the son of Herr and Frau Mueller. His father was a Prussian tax-collector. He Was sent out by God to England to do missionary work. Once there God had gave him a great burden for the homeless orphans that roamed the streets there. He set out without a penny to his name to open an orphanage to shelter and take care of the needs of these orphans and thousands to come in the future.
Not taking his needs to man he set out to depend upon God for all that he needed. Mr. Mueller wrote that he began this great task not only for the well being of the homeless children but to prove to the Church ( Body of Christ ) that the Word of God is to be looked upon as truth and if put to action will come to past. In all of his needs, he sought the Face of God with prayer and meditating on God's Word; and God had answered every one.Three weeks after his marriage, he and his wife decided to depend on God alone to supply their needs--never again to approach people about them. Mr. Mueller testified that in his lifetime 50,000 specific prayers were answered. Years before he died, about he middle of his career, he affirmed that up to that time 5000 of his definite prayers had been answered on the day of asking. He made it a habit to keep a notebook with 2-page entries. On one page he gave the petition and the date, and on the opposite page he entered the date of the answer. In this manner he was able to keep record of definite petitions, and their specific answers. He recommended this form to believers who desired specific results to their prayers. Thus there is no guesswork as to when God answers prayers.
In giving advice gained through daily trials of his faith, this father of the orphans laid down rules for a Christian to follow by which they might also strengthen their faith. These rules are:
1. Read the Bible and meditate upon it. God has become known to us through prayer and meditation upon His own Word.
2. Seek to maintain an upright heart and a good conscience.
3. If we desire our faith to be strengthened, we should not shrink from opportunities where our faith may be tried, and therefore, through trial, be strengthened.
The last important point for the strengthening of our faith is that we let God work for us, when the hour of trial of our faith comes, and do not work a deliverance of our own. Would the believer therefore have his faith strengthened, he must give God time to work.
Here is a short story that was told concerning the life of George Mueller and the kind of faith he had:
One morning the plates and cups and bowls on the table were empty. There was no food in the larder, and no money to buy food. The children were standing waiting for their morning meal, when Mueller said, "Children, you know we must be in time for school." Lifting his hand he said, "Dear Father, we thank Thee for what Thou art going to give us to eat." There was a knock on the door. The baker stood there, and said, "Mr. Mueller, I couldn't sleep last night. Somehow I felt you didn't have bread for breakfast and the Lord wanted me to send you some. So I got up at 2 a.m. and baked some fresh bread, and have brought it." Mueller thanked the man. No sooner had this transpired when there was a second knock at the door. It was the milkman. He announced that his milk cart had broken down right in front of the Orphanage, and he would like to give the children his cans of fresh milk so he could empty his wagon and repair it. No wonder, years later, when Mueller was to travel the world as an evangelist, he would be heralded as "the man who gets things from God!"
HOW TO ASCERTAIN THE WILL OF GOD
1. I seek at the beginning to get my heart into such a state that it has no will of its own in regard to a given matter. Nine-tenths of the trouble with people generally is just here. Nine-tenths of the difficulties are overcome when our hearts are ready to do the LORD's will, whatever it may be. When one is truly in this state, it is usually but a little way to the knowledge of what His will is.
2. Having done this, I do not leave the result to feeling or simple impression. If so, I make myself liable to great delusions.
3. I seek the Will of the Spirit of God through, or in connection with, the Word of God. The Spirit and the Word must be combined. If I look to the Spirit alone without the Word, I lay myself open to great delusions also. If the Holy Ghost guides us at all, He will do it according to the Scriptures and never contrary to them.
4. Next I take into account providential circumstances. These often plainly indicate God's Will in connection with His Word and Spirit.
5. I ask God in prayer to reveal His Will to me aright.
6. Thus, through prayer to God, the study of the Word, and reflection, I come to a deliberate judgment according to the best of my ability and knowledge, and if my mind is thus at peace, and continues so after two or three more petitions, I proceed accordingly. In trivial matters, and in transactions involving most important issues, I have found this method always effective.


George Mueller